NEWS
29.10.2016 | FIVE NEW COUNTRIES!
Ecuador | Quito || 31.8.16 Festival Signes de la Noces
​
Austria | Braunau || 23.9.16 International Innkurzfilm Festival
http://www.innkurzfilmfestival.at/nominierte-filme-kategorie-kurzfilm/
Portugal | Lisbon || 2.10.16 Festival Internacional Signos da Noite
http://www.signesdenuit.com/Lisboa/2015/E_H.htm
Indonesia | Bali || 11.10.16 Minikino Filmweek
http://minikino.org/filmweek/en/
Spain | Barcelona || 26.11.16 Human Rights Film Festival
www.festivaldecineyderechoshumanos.com
​
1.5.2016 | Diabon chúr Ireland!
Fastnet Film Festival in Schull (25.-29.05.2016), Screenings on 26. and 27th May
http://www.fastnetfilmfestival.com/festival_year/2016-festival/
1.4.2016 | Tenemos subtítulos españoles! Proud to present Spanish subtitles!
Premieres in the past:
Deutschland, USA, Weißrussland, Kanada, Bahrain, Indien, Frankreich, Japan, Bosnien-Herzegowina, Rumänien, Bayern ;), Irland
11.2.16 | Five new Festivals!
Tokyo!
Green Image Film Festival Japan
9.-11.1.16 and 23.-25.3.16
green-image.jp/en/filmfestivals/3rd/
​
Sarajevo!
32nd International Festival "Sarajevo Winter 2016"
7.2-21.3.16 in Sarajevo / Bosnia and Herzegovina
-> WISHING WELL will be screened on 21st February, 2016
sarajevskazima.ba/en/programme/film-video/
​
Romania!
ClujShorts - International Short Film Festival
4.-10. April 2016 in Cluj / Romania
​
Baltic coast!
KurzFilm-kiek-in Laboe / Germany
Screening on 31st March, 2016
kurzfilm-kiek-in.jimdo.com/aktuell/
​
Bavaria!
Grenzland Filmtage Selb
31. März. - 3. April 2016 in Selb
​
2.12.15 | Moin Moin Hamburg!
This one makes us extra happy: DIE BRUNNENFRAU is screened at "Inklusives Festival KLAPPE AUF!" in Hamburg this Saturday, 5th December, noon.
​
​
29.11.15 | Nous sommes Paris!
At the 13e Festival International Signes de Nuit, Focus Allemagne (29.11.15, 6pm)
​
​
15. Sept., 2015 | Hallo India!
WISHING WELL (Die Brunnenfrau) was chosen for the ICFF Official Selection and will be screened on 19th September in Mumbai at the 3rd Indian Cine Film Festival-15!
http://miniboxoffice.com/indiancinefilmfestival/
​
​
28. May, 2015 | Hello Bahrain!
Wishing Well at Bahrain National Unity Film Festival
www.hellobahrain.com/bahrain-events/national-unity-film-festival-1
​
​
5.-10th May, 2015 | Canada
2 Screenings at Reel Shorts Film Festival Alberta Canada
​
​
10th April, 2015 | Leipzig
KURZSUECHTIG Short Film Festival in Leipzig
​
​
WISHING WELL is coming home:
20.3.15 | 10 p.m. | LICHTER Filmfest Frankfurt
Competition Regional Shorts
​
​
Bavaria!
20.3.15 | 9 p.m.
International Short Film Festival Regensburg
Special Program "Rebel Girls"
​
​
Coming to the States!
10.4.15 | 7 p.m. | WAMM Fest – Women and Minorities in Media Festival in Baltimore/Maryland
www.wammtu.com
​
​
6.2.2015
Berlinale! 
WISHING WELL is screened on 9th February at 8 p.m. at hackesche höfe kino
(Kinofest Lünen Festival are presenting their winner films)
​
​
18.11.2014
Lünen we love you!
Best Short at Kinofest Lünen – thank you dear audience!
​
​
3.11.2014
Gewonnen!
WISHING WELL was awarded Best Short at the 36th Festival "Biberacher Filmfestspiele" by the Jury.
​
​
20.10.2014
Festivals and Screenings in Germany:
» 16.10.14 Magdeburg | 17.10.14 Dessau | 18.10.14 Halle
Filmkunsttage Sachsen-Anhalt – Competition
» 30.-31.10.14 Biberacher Filmfestspiele – Competition
» 14.11.14 Kinofest Lünen – Competition
» 22.11.14 Filmklubb Offenbach – Theme Night
» 29.11.14 Filmz Mainz – Competition
​
15.10.2014
US Premiere in San Francisco!
​
» http://aff2014.arabfilmfestival.org
​
8.10.2014
DIE BRUNNENFRAU goes East!
Screening in Minsk / Weißrussland
10.09.2014 in the German Embassy
​
30.7.2014

WISHING WELL received the Audience Award as Best Film in the State of Hesse at the Shorts at Moonlight Festival!
» www.shorts-at-moonlight.de
​
18.6.2014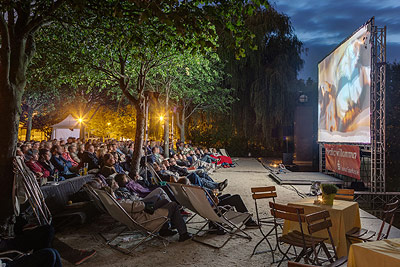 The German version of WISHING WELL "DIE BRUNNENFRAU" will be screened on July 30th, 2014 at Open Air Filmfestival SHORTS AT MOONLIGHT in Hofheim near Frankfurt! The director will be present.
» www.shorts-at-moonlight.de
​

24.1.2014
The German weekly newspaper DIE ZEIT shows five film clips of participating films in the Competition of "Max Ophüls Preis Festival" in their online version – WISHING WELL is one of them.
​
21.1.2014
The German version of WISHING WELL "DIE BRUNNENFRAU" celebrates National Premiere at the Max Ophüls Preis Festival in Saarbrücken, Germany
​
​Director Julia Finkernagel (center) with Anja Thiemann and Jochen Nickel (© Sebastian Woithe)
​
28.12.2013
The German Film Rating Agency FBW granted DIE BRUNNENFRAU with a "Rated Valuable" (Prädikat Wertvoll).
Excerpt:
"Julia Finkernagel explicitly tells her story in the style of a parable. Although shot in Andalusia the (Afghan) setting seems genuine. In only a few short scenes the two German actors succeed in conveying the protagonists' conditions very precisely.
In every scene it becomes evident how alien the visiting helpers and the villagers are and will remain to each other."